The KONE TranSys™ DX for full replacement redefines what an elevator built for demanding environments can be, with built-in connectivity for improved goods and passenger flow, and an inspiring new user experience that delivers on all counts.
The KONE TranSys DX not only has exceptional lifting power and performance, it also completely removes the need for a machine room, meaning that replacing your elevator frees up valuable space for more profitable purposes.
Key features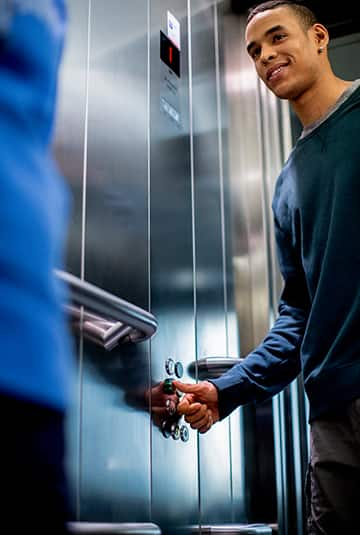 Digital connectivity – Make sure your building is set up for the future with smart solutions and services enabled by cloud connectivity based on KONE application programming interfaces (APIs).
A completely new kind of user experience – Redefine elevator rides in your building with new material, lighting, and signalization options.
Easy loading and unloading – Get goods and passengers in and out with ease thanks to wide-opening doors and highly accurate leveling, plus a high sill load that prevents heavy loads from unbalancing the elevator. With connectivity built in, staff moving heavy loads can optimize their route by calling an elevator remotely.
Compliance you can rely on – Enhance your elevator with solutions that ensure compliance with various codes and regulations, including accessibility, vandal-resistance, and operation during a fire.
A lasting impression – Redefine the elevator experience for staff and visitors and make sure your elevator is up to the toughest of challenges with new and durable material, lighting,
and signalization options.