The KONE MonoSpace® DX includes built-in connectivity for improved people flow and a new and inspiring user experience that really connects – on every level.
Modernizing with the KONE MonoSpace DX completely removes the need for a machine room, meaning that replacing your elevator frees up valuable space for more profitable purposes.
The KONE MonoSpace DX with external shaft is designed for buildings where there isn't enough space inside the building for an elevator shaft.
Key features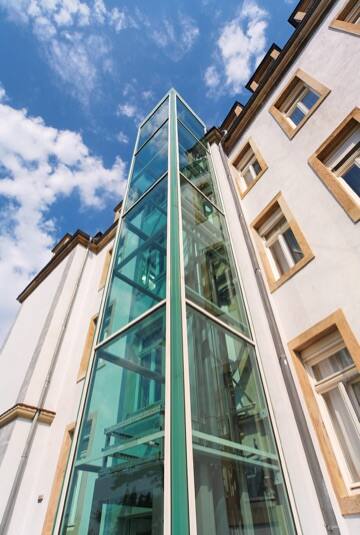 Digital connectivity – Make sure your building is set up for the future with smart solutions and services enabled by cloud connectivity based on KONE application programming interfaces (APIs).
A completely new kind of user experience – Redefine elevator rides in your building with new material, lighting, and signalization options.
Guaranteed compliance – Your new elevator will comply fully with all applicable codes and regulations, including those related to accessibility, vandal-resistance, and operation during a fire.
Easy to upgrade – With easy digital integration and the possibility to upgrade in the future as your needs change, you're all set to add new connected services as and when you need them
Eco-efficient performance – Best-in-class eco-efficiency, save energy and reduce your building's carbon footprint with our eco-efficient hoisting, lighting, and standby solutions.